Recent Notable California Earthquakes

Epicenters of historic Southern California earthquakes since 1812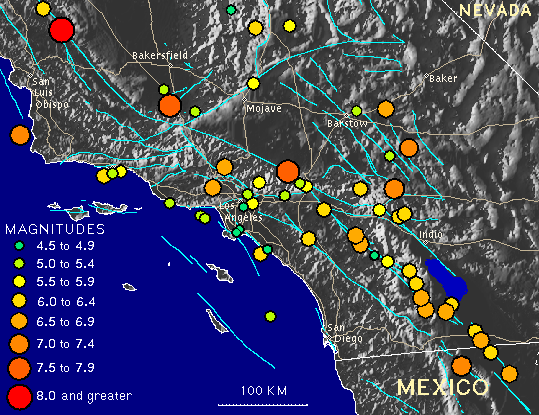 Foreshocks, Mainshocks & Aftershocks

Distribution of Ridgecrest Earthquakes 1980-1995

Northridge Sequence January-July 1994

Landers/Big Bear Sequence June 28, 1992

Hector Mine - October 16, 1999

Additional reports and animations

Computed Probabilities for Events in Southern California.

PROBABILITY OF AN AFTERSHOCK ONE UNIT OF MAGNITUDE SMALLER,
(e.g. a M5 aftershock to a M6 mainshock)
Within 1 day: 28% - Within 7 days: 40% - After 7 days, but within 1 year: 26%

PROBABILITY OF A LARGER EARTHQUAKE AT THE SAME PLACE
Within one hour: 1.5% - Within three days: 6%

PROBABILITY OF AN EARTHQUAKE ONE UNIT OF MAGNITUDE LARGER
(e.g. a M6 mainshock to a M5 foreshock at the same place)
Within three days: 1%

PROBABILITIES OF A FUTURE LARGE EARTHQUAKE ARE HIGHER NEAR A FAULT
LARGE ENOUGH TO PRODUCE A BIG EARTHQUAKE (e.g. the San Andreas)
Probability of a M7.5 earthquake in the three days after a M6
in the southern Coachella Valley: 30%
Current USGS Earthquake Scenario for Southern California


Lavic Lake-Hector Mine Earthquake - 10/16/1999 M7.1
HECTOR MINE QUAKE
TIME: October 16, 1999; 2:46am PDT
LOCATION: 34° 36' N, 116° 16' W;
32 miles north of the town of Joshua Tree
47 miles east-southeast of Barstow
MAGNITUDE: Mw 7.1
TYPE OF FAULTING: right-lateral strike-slip


Pictures taken by Paul "Kip" Otis-Diehl, USMC, 29 Palms are available at this link.

Southern California Earthquake Data Center information on The Hector Mine Earthquake.

For further information on the Hector earthquake and the Lavic Lake fault, see the U.S. Geological Survey Pasadena Office web site .

Commentary can be found at Trinet.

Charles Watson's Seismo-Watch Special Earthquake Report has some great Photos of the fault site.

Northridge - January 17, 1994 - Magnitude 6.7

San Fernando Valley Apartment Damage

NORTHRIDGE EARTHQUAKE
TIME: January 17, 1994; 4:31 AM PST
LOCATION: 34 degs 12.53' N, 118 degs 32.44'W,
20 miles west-northwest of Los Angeles;
1 mile south - southwest of Northridge.
MAGNITUDE: Mw 6.7
TYPE OF FAULTING: blind thrust


Landers / Big Bear - June 28, 1992 - Magnitude 7.3

Landers Ground Rupture
Click on image to view
LANDERS EARTHQUAKE

TIME: June 28, 1992; 4:52 AM PST
LOCATION: 34 degs 13' N, 116 degs 26'W,
6 miles north of Yucca Valley.
MAGNITUDE: Mw 7.3
RUPTURE LENGTH: 85 km (~53 miles)
AVERAGE SLIP: ~3 to 4 km; Maximum slip - 6 meters
FAULTS RUPTURED: Johnson Valley, Landers,
Homestead Valley, Emerson, and Camp Rock
TYPE OF FAULTING: right-lateral strike slip
View Slides, Rupture Movie, and Aftershock Animation


Loma Prieta - October 17, 1989 - Magnitude 7.1

Information on this page has been compiled from the following sources:




Go Back

to Susan Rosenberg's Quaking Home Page
Return to the

Web Site Index

Created by Susan Rosenberg of WritersBloc